The Gearbox is not talked about too much and being in the process of rebuilding the one going in the Zuk on 38's Build. Thought it would be a good time to share a few tips and tools that were picked up on in a couple of pervious rebuilds.
Reference Rebuild Info: Here is a good step by step and pics. (There are some Gray areas for reassembly though).http://www.geerdijk.com/files/suzuki/tranny_rebuild.pdf
The Factory Service Manual will be needed for a few things that were not covered.This is my minimum parts list and parts # from LROR.
1----STM-ISR-----------Samurai Transmission Front Input Housing Bearing Retainer
2----STM-CRSB--------Samurai Clutch Release Shaft (throwout) Bushing
1----STM-TNB----------Samurai Transmission Needle Bearings
1----STM-RRTB--------Suzuki Samurai Transmission Tail Shaft Bushing
1----STM-UTM---------Unbreakable Rear Transmission Mount
1----SDT-TBS----------Samurai Transmission Shifter Bolt 86-89
1----STM-TIP-----------Samurai Timing Inspection Plug
1----SDT-TMBN--------Samurai Nylatron Transmission Shifter Bushing
1----STM-RKS----------Samurai Transmission Rebuild Kit w/ Syncros And Silicone
1----STM-CRSOS-----Clutch Release Shaft (Throwout) Oil Seal
There are a few grey areas I will try and shed some light on.The countershaft installation is one of those grey areas. This is the procedure that works well with a press, mallet, couple of sockets and a piece of pipe.Pics are marked in detail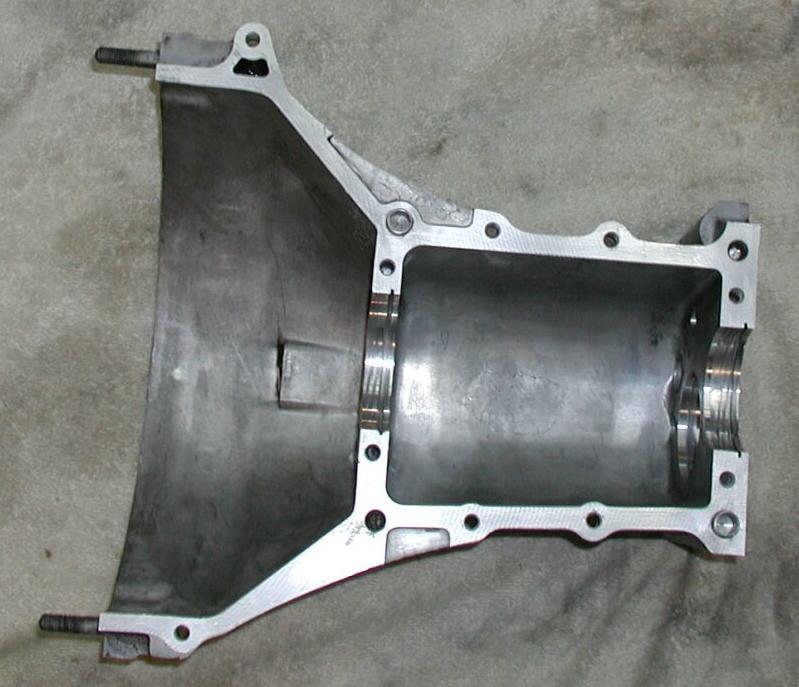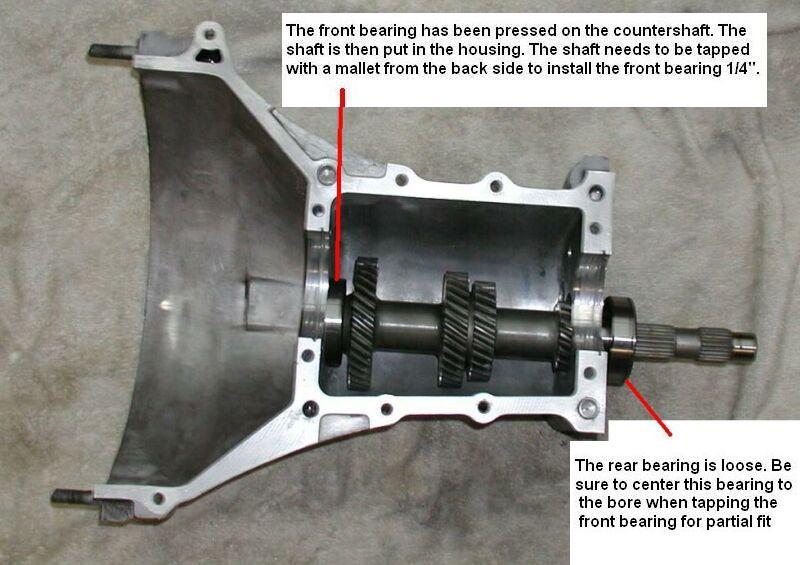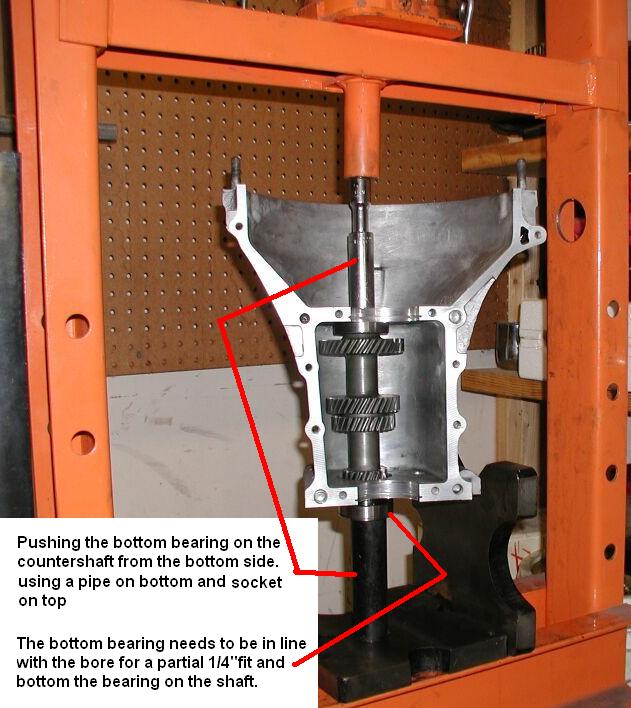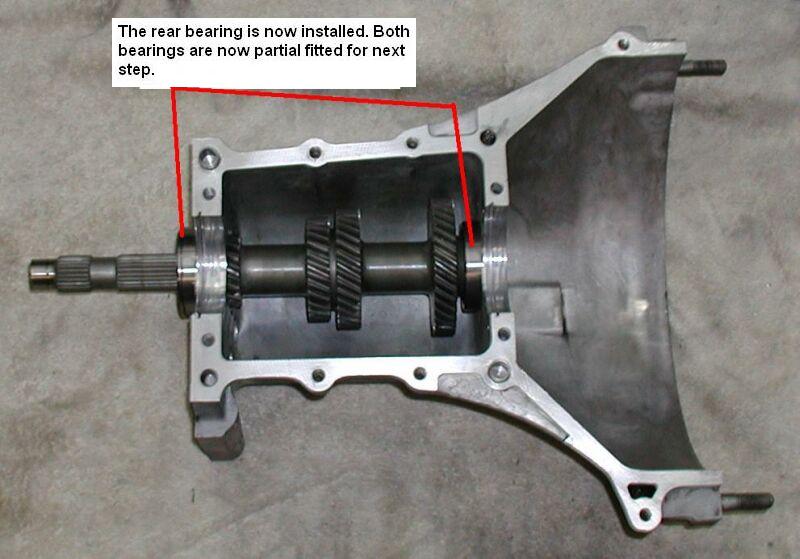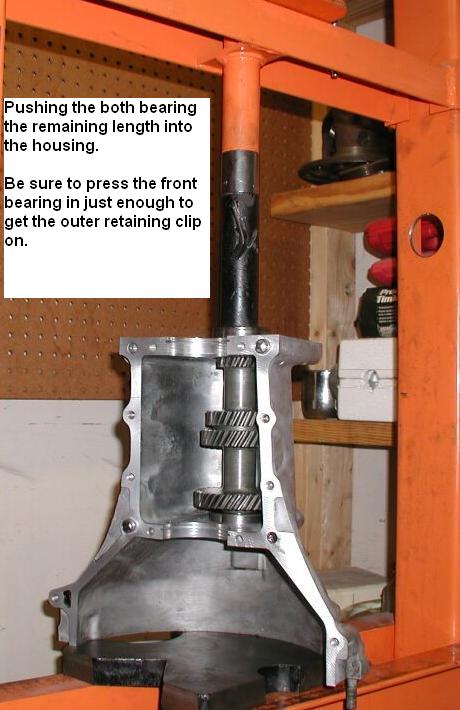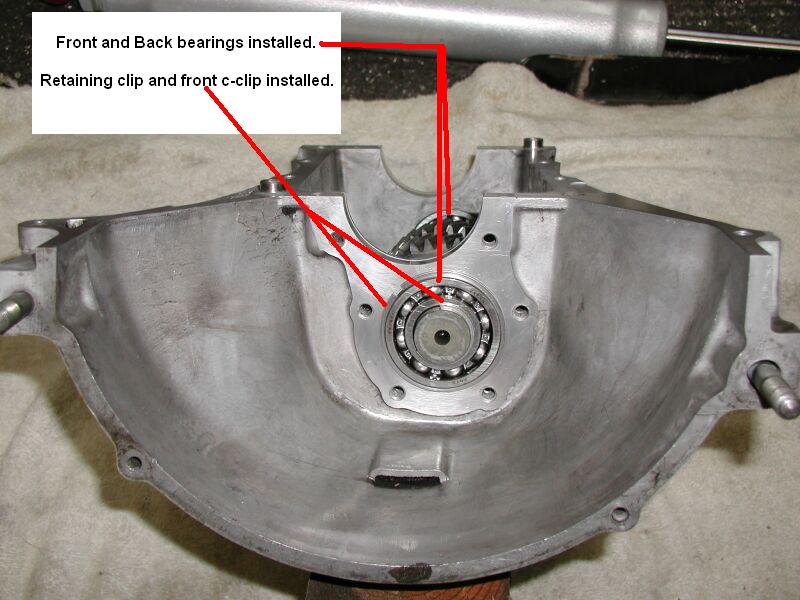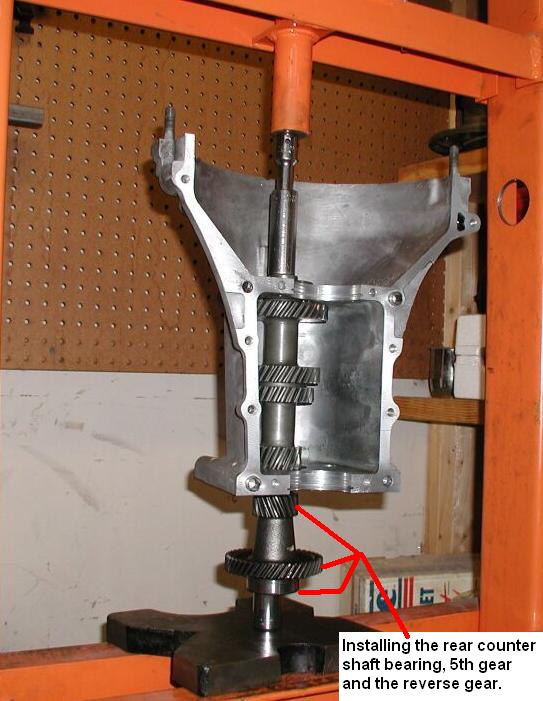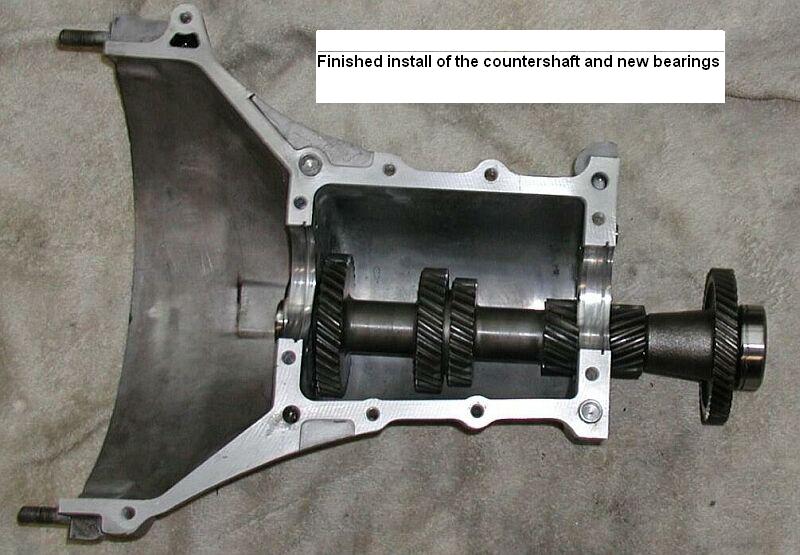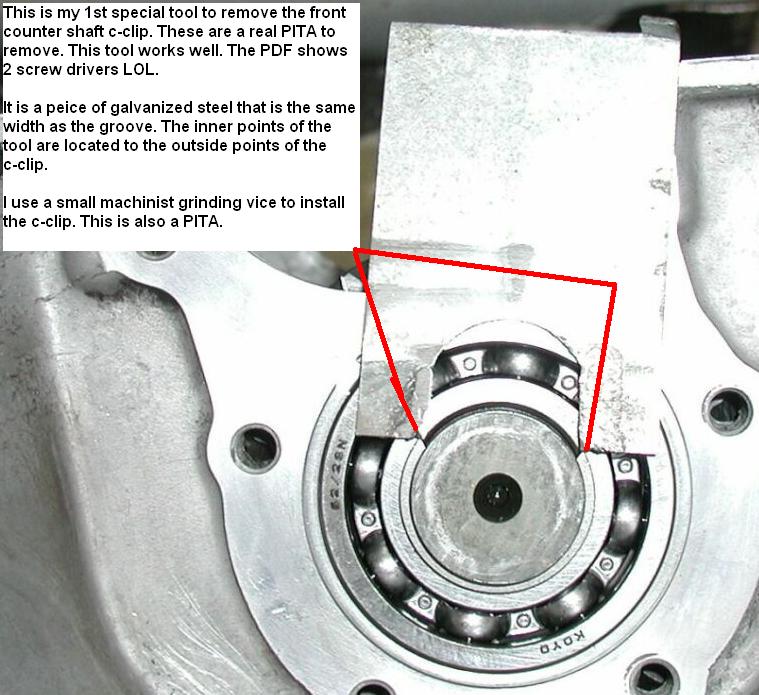 Here is another one of those gray areas that I will walk you through.Rear Tailshaft Bushing is something that is probably overlooked. A couple of reason for changing it are:There always seems to be metal shavings on the rear tialshaft bearing location flange. The worn out bushing seems to be causing this problem. The worn out bushing will also cause the driveshaft to have excess runout and will cause the seal to leak prematurely.The pics are marked in order of removal and install.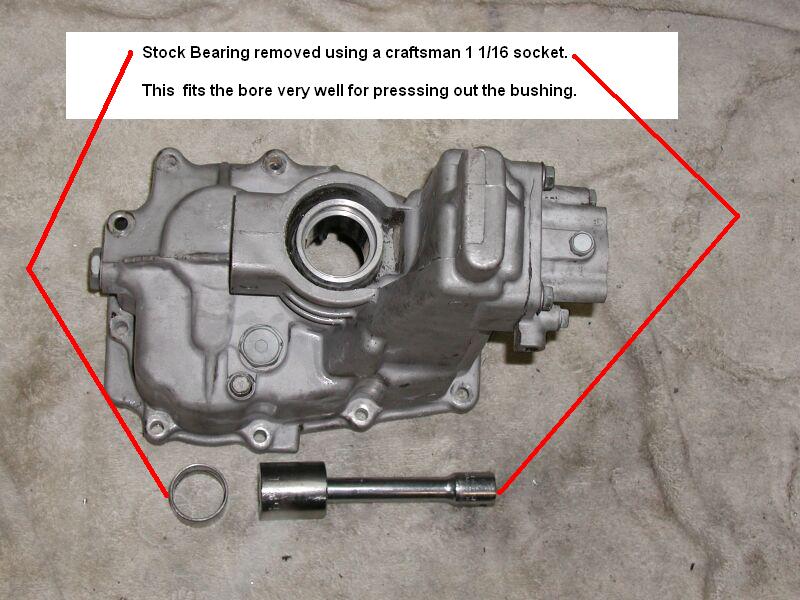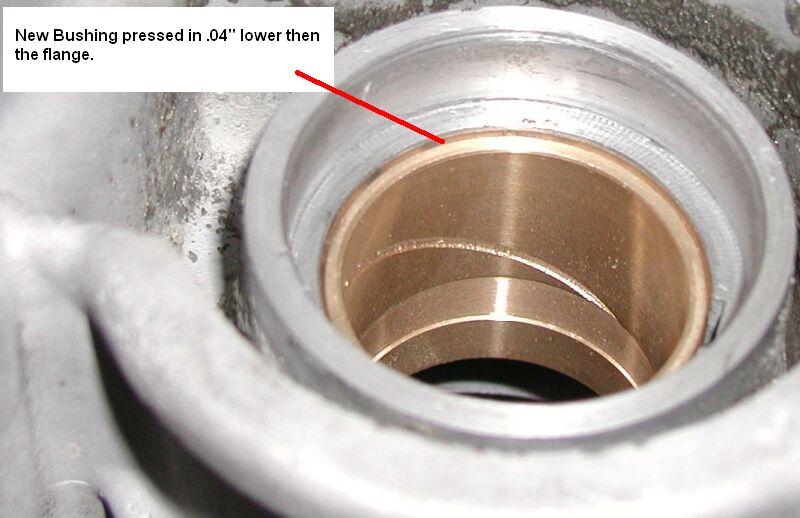 Here is a Tip that has been around for a long time. Never tried it before because of the extra time involved to make it.The last trans rebuild the case bolts seemed to be a problem keeping sorted for the proper hole locations. This is because there are different lengths and different types of items attached to them. They also tend to roll around on the bench which causes them to get mixed up.Decided to give the block of wood with holes drilled a try. It is to keep the appropriate bolts in order and location they were removed from. Wanted to pass this on because it had worked so well. The bolts had better manners this time and are going to be very easy now to install.Definitely worth the extra time to make.
Pic is of a 4x4 Block of scrap wood and 5/16 holes drilled for the bolts 3" deep. The holes were put in to match the bolts in the separate sections of the housing during disassembly.
Clutch Fork Bushing removal tool consisting of:How to make a toolHow to use the toolBushing Removal and Install InstructionsThe info was getting much too long to make it interesting. It is now in a much shorter format with a lot of detail for completing this task. Pics are posted in order and marked with instructions.This tool and process has been used several times. Just hope it isn't too confusing on the instructional part of it.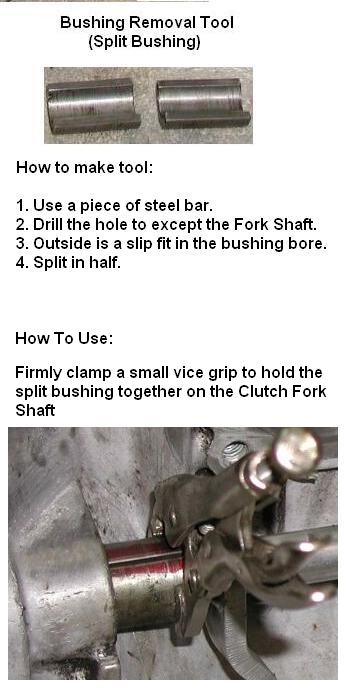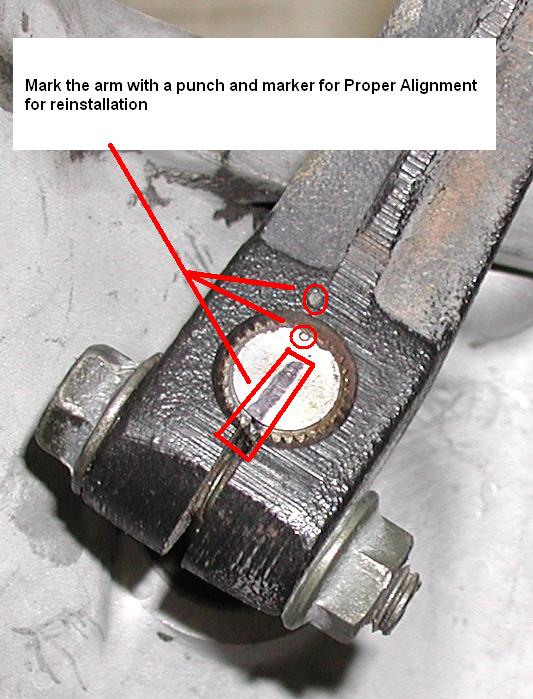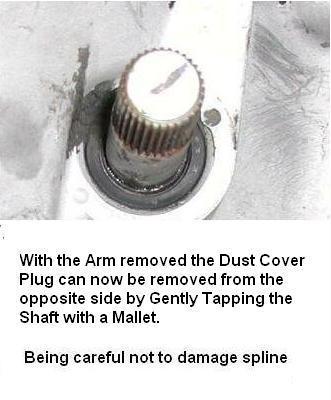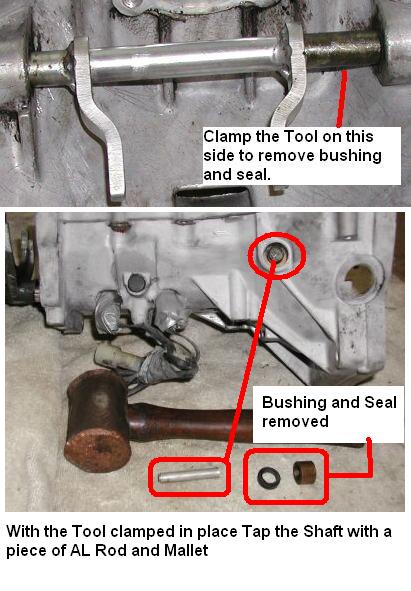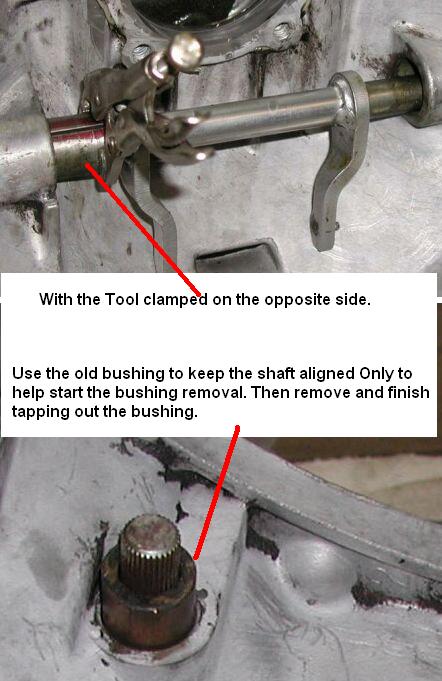 Summary:Found after disassembly the instructions seemed a bit sketchy for reassembly. Thought a more detailed assembly process and the Special Tools would shed some light on the gray areas that I had experienced. Hope these couple of transmission tips were helpful in shedding a better light on those Gray areas.Note: (IMO)The special tools that were used can be made without too much trouble. The Small Vise that was used is a CHEAP 3" Vise that can be found at Enco.Here are the last 2 tools that were used.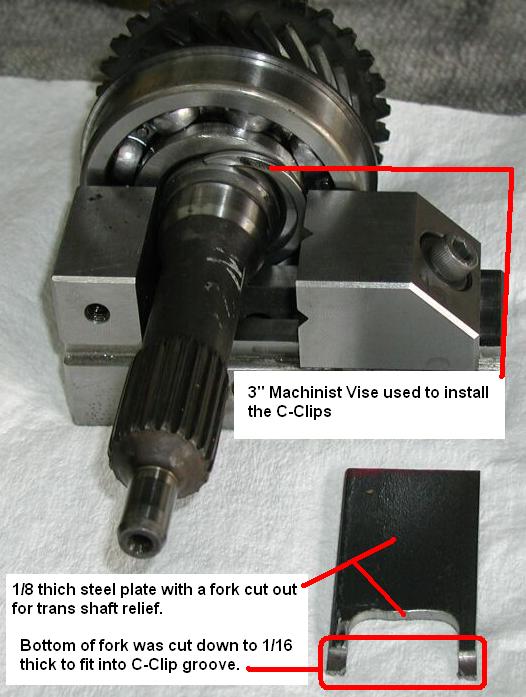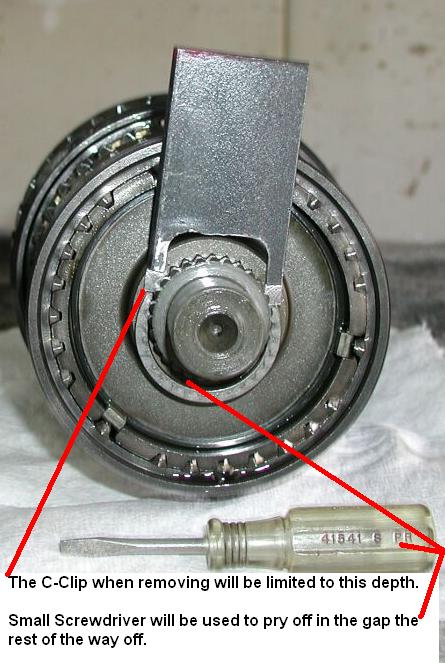 Credit
This Article was Written By Tan Zuk and full permission was given for it to be used here
The original thread can be found at http://www.zukikrawlers.com/